Kurzzusammenfassung / short summary
Inhaltsverzeichnis / Table of Contents
---
Kurzzusammenfassung / short summary
The Weather God of Aleppo played a supra-regional role in the ancient world which accounts for the enormous size of the temple and its brilliant relief decoration. The building, a so-called 'tower-temple', goes back to the middle of the 3rd millennium BC. Under Hittite rule in the second half of the 2nd millennium, the temple was decorated with reliefs showing images of 'false windows', two bull-men, and the Weather God. The entrance was protected with the relief of a fish-genius, as well as sphinx and lion portal figures.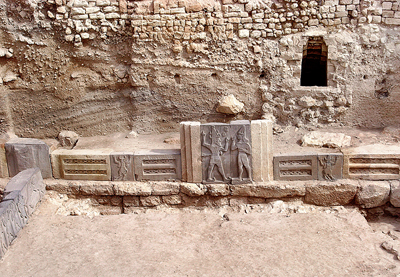 In the 11th century BCE, Taita, "King and Hero of the Land of Palistin", restored the temple. He inserted his figure directly facing the Weather God. A final redecoration took place in the later 10th century BCE. It shows the Weather God entering his chariot, surrounded by his entourage. But, before all work had been even completed, the building burned down and was abandoned.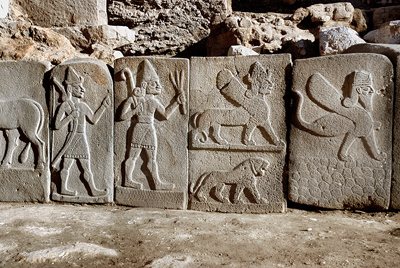 "Qalᶜat Ḥalab – Occasional Papers 1" gives an account on the most important discoveries in the temple.
لعب إله الطقس في حلب دورا إقليميا كبيرا في العالم القديم، يفسر ذلك من خلال حجم المعبد الهائل و زخارفه النافرة الرائعة. يعود المبنى، وهو ما يسمى بالمعبد البرجي، الى منتصف الالفية الثالثة قبل الميلاد.
في النصف الثاني من الالف الثاني قبل الميلاد وتحت الحكم الحثي، كان المعبد قد زين بزخارف نافرة تظهر على شكل "نوافذ وهمية" ومنحوتتان ل الانسان-الثور و إله الطقس. مدخل المعبد كان محميا بتمثال عبقري السمك بالإضافة الى تمثالي ابي الهول واسد.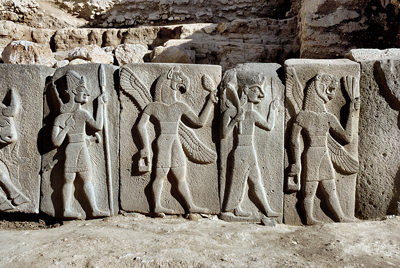 في القرن الحادي عشر قبل الميلاد، رمم تايتا، "ملك وبطل ارض فلسطين"، المعبد وادخل تمثاله مباشرة مقابل إله الطقس. حدثت الزخرفة النهائية في نهاية القرن العاشر قبل الميلاد. وهي تظهر إله الطقس داخل عربته، محاطا بحاشيته. لكن قبل ان تكتمل جميع الاعمال، احترق المعبد وتم هجره.
<قلعة حلب – أوراق بحثية بمناسبة افتتاح إعادة افتتاح متحف حلب> تقدم وصفا عن اهم المكتشفات في المعبد.
---
Inhaltsverzeichnis / Table of Contents
Preface

1. History of research

2. Historical overview

3. Stratigraphy and building type

4. Early Bronze Age
Architecture
Cult inventory and small finds
5. Middle Bronze Age and Late Bronze Age I
Architecture
Architectural decoration
Cult inventory and small finds
6. Late Bronze Age II
Architecture
Architectural decoration
Cult inventory and small finds
7. Early Iron Age
Architecture
Architectural decoration
Cult inventory and small finds
8. Quarries and re-use of sculptures
9. Spatial references
10. 3D-documentation of architecture and architectural decorations (Arie Kai-Browne)
Bibliography
Notes
Image credits
[nach oben / to the top]
---